Proofreading
Proofreading involves removing and correcting errors in spelling, punctuation and grammar, as opposed to improving the wording (which falls under editing).
However, when proofreading, if something doesn't make sense or we think it needs to be reworded, we'll raise that in a comment.
Your document is carefully read through and marked up twice - once on screen, then on paper.
Changes marked up on the hardcopy are then transferred back to the electronic copy, which we return to you with changes tracked and comments raised where necessary.
It's easier to spot mistakes on a printed copy, and this final check ensures the best result.
---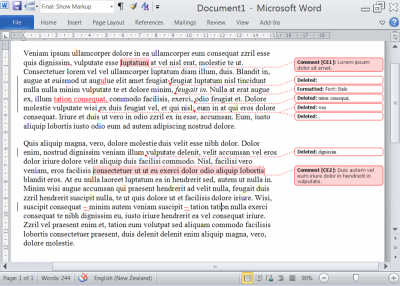 Example of 'Track Changes' (click to expand image)
We check and correct the following:
spelling
grammar
punctuation
capitalisation
spacing between words and lines
'widows' and 'orphans'
font style and size
contents page and list of illustrations
tables, diagrams, figures, captions
page numbers, headers, footers
numbered lists
heading consistency
internal consistency and referencing
footnotes, references, cross-references
contacts, addresses, telephone numbers
preliminary pages and end matter
anything else requested
Document formats we proofread include:
Microsoft Word - corrections are made using the 'Comments' and 'Track Changes' functions, allowing you to see every change and choose to accept or reject each correction.
PDF - corrections are indicated using Adobe Acrobat's 'Comment & Markup' features.
Websites - corrections can be made either in Microsoft Word or directly through your content management system
---